Adult Transition Program Aims To Secure Employment For Members | Bourne News
In the former home economics room at Bourne High School, a breakfast café has popped up.
Staff members have placed their orders online, and Jerry Miller starts preparing English muffins for the toaster oven.
Meanwhile, Sarah Vianchini rings the order into the cash register so that the staff member can be appropriately charged for their meal.
When the order is ready to be delivered, Eli Avilla gets ready to deliver the order personally to its owner.
These people are all members of the FAST program—a transition program through the Bourne Public Schools intended to prepare differently abled adults for employment. Members range in age from 18 to 22, and the goal is to have them all leave the program with paying jobs.
Each member is given the room to progress at his or her own pace, and different levels of and paths to employment are provided: job exploration, volunteering, internships, supported paid employment and, ultimately, independent paid employment.
Four members have paid jobs at Market Basket.
The program has been growing exponentially and has 14 members—an increase from four members three years ago. Another two students are expected to enter the program next year.
Members are coming from towns other than Bourne now, too. Mr. Miller is from Falmouth.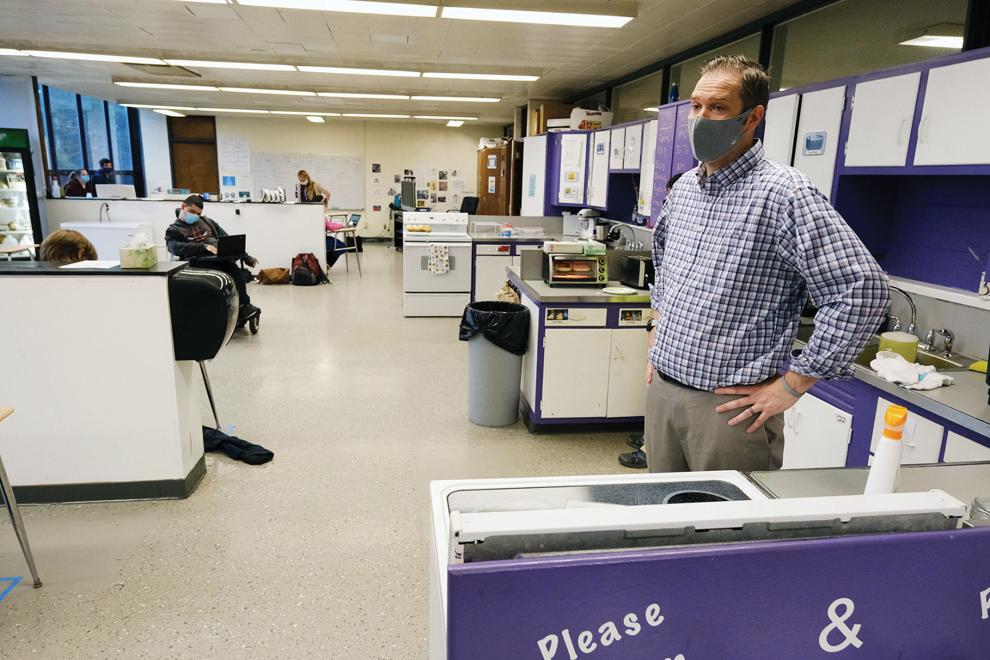 Lead teacher and program coordinator Brewster Anderson said the members are all working toward getting their ServSafe certification, which will enable them to work in food service positions. He said in a typical year the program would also be serving food to the high school students, but given the pandemic, they are only serving teachers and staff this year.
Working in the café is just a piece of what members of the program tackle on any given day.
For Ms. Vianchini, her day also includes going to her internship at the Bourne Public Schools Central Offices where she will help with filing and shredding old documents.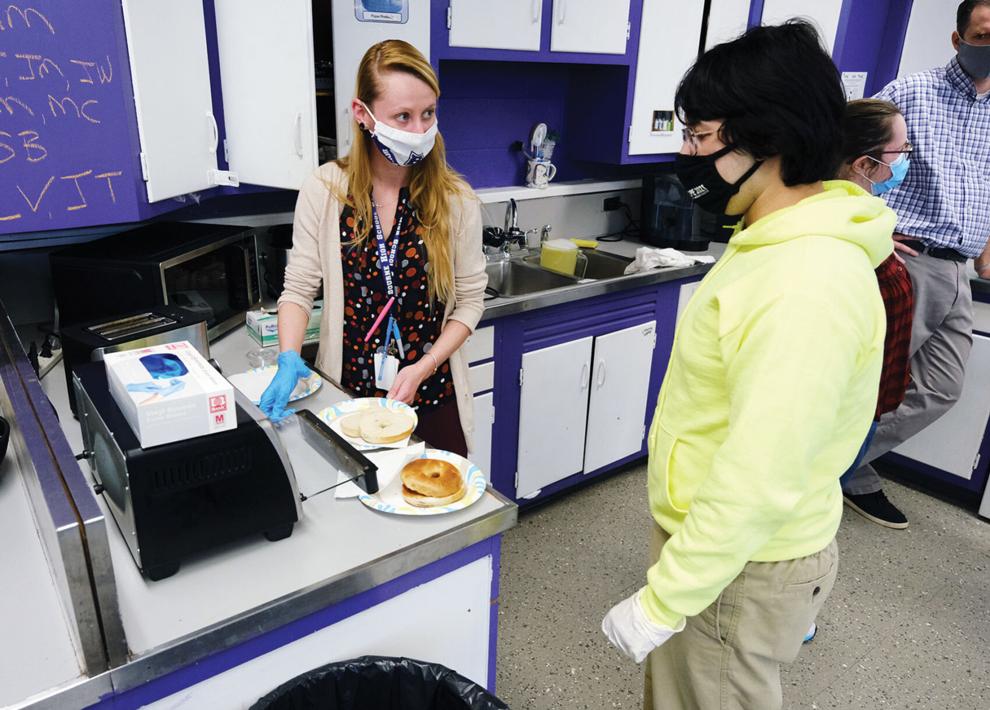 She will also attend a college class at Cape Cod Community College. This year, Ms. Vianchini has chosen to take a remote dance class.
In the future, she said she would like to become a supermodel or work in a makeup store.
"I want to be like Kendall Jenner," she said.
Members of the program will also learn how to do laundry and cook for themselves, learn about financial literacy, learn how to take public transportation and learn how to build their resumés. Throughout the week, they also have team-building events such as trivia days.
They learn how to go grocery shopping, with one member doing the shopping for her entire household during that trip. Mr. Anderson said many of the members have their own debit cards, which opens the door for them to learn about online banking and depositing paychecks.
Social skills such as conflict resolution and internet safety are also part of the curriculum.
While the program is held in a school, Mr. Anderson said it is more accurate to call it "un-schooling."
The term "school" is replaced with "program," assignments are called "opportunities" and students are "team members." A team member does not get in trouble; instead, they are "held accountable."
Within the program, the instructors work to find out what members are interested in and how that might translate to the goal of paying work.
An employment board has been put up in the classroom with listings of the opportunities that are out there. Mr. Anderson said the program has community partners with places like Market Basket and Donna's Consignment.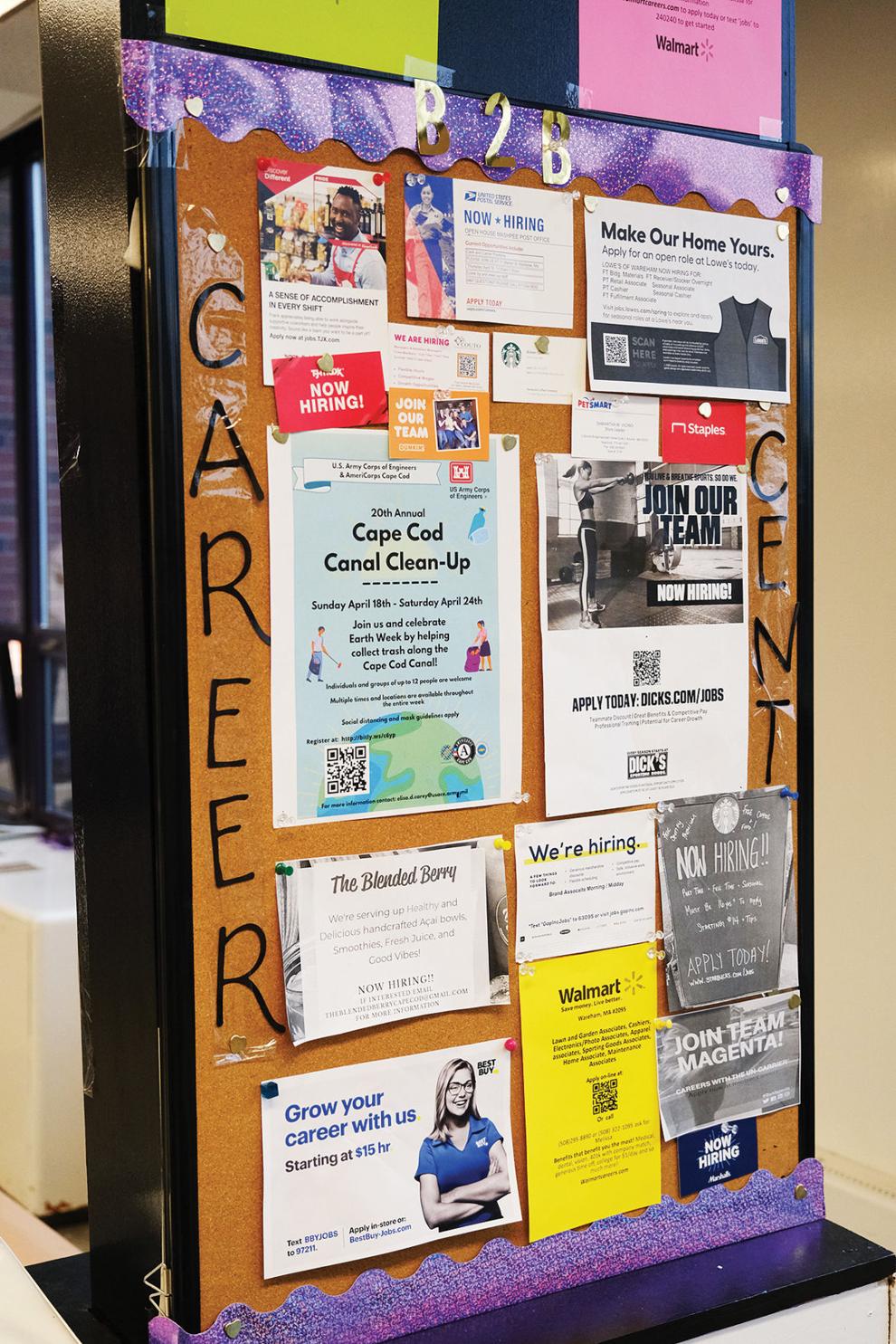 Last year, Mr. Avilla had been doing an internship at Bourne Manor, where he helped take the lunch orders of the residents there. He also worked at the Happy Hope Factory, where he sorted the crayons that go into care packages for children who are hospitalized.
Members of the program are also very interested in working at Walmart, he said.
"We're trying to establish our name out there," Mr. Anderson said. "We would love our program to be synonymous with quality workers."
Located near the Bourne Bridge, the program is uniquely situated to work with businesses in Bourne, Sandwich, Mashpee, Wareham and Falmouth.
As the program has evolved, so has its focus. Mr. Anderson said they are planning to rebrand into being called the Level UP program because the program is preparing its members for the next level of their lives. The UP stands for them having unlimited potential.
"The sky's the limit," Mr. Anderson said.
He said the members and their families are what make the program great.
It has been well-received by the members as well.
Mr. Avilla, who aspires to create video game videos on YouTube, said he has enjoyed the time he has spent in the program.
"I'm very happy here," he said. "I wouldn't want to be anywhere else. The teachers are great."