Telkomsel and Gojek empower MSMEs through digital marketing collaborations – Inforial
State-owned telecommunications company Telkomsel and homegrown superapp Gojek have continued to work hand-in-hand to empower micro, small and medium enterprises (MSMEs) in Indonesia through the maximum use of technology since the two parties announced their partnership in 2020.
The two companies are now integrating their Telkomsel MyAds and GoBiz platforms. Telkomsel MyAds is Telkomsel's digital advertising solution. GoBiz, meanwhile, is a superapp that Gojek has designated for its business partners.
The partnership opens new opportunities for Gojek's business partners to expand their market share in a more precise way through digital advertising analytics offered by Telkomsel MyAds. This enhanced precision aided by the digital solution is expected to help these business partners reach more customers.
"Telkomsel is happy to collaborate more closely with Gojek. We are also optimistic about strengthening this strategic partnership since MSMEs are vital actors in Indonesia's post-pandemic economic recovery," Telkomsel president director Setyanto Hantoro said.
"Therefore, as Indonesia's leading digital telecommunications company, we endeavor to help MSMEs boost their productivity by reaching out to a wider market segment through our Telkomsel MyAds services. We hope this collaboration can open new opportunities and probabilities for Indonesian MSMEs while helping the national economy attain sustainable growth," he continued.
Similarly Gojek co-chief executive officer Andre Soelistyo said supporting the growth of Indonesian MSMEs, the backbone of Indonesia's economy, had always been core to Gojek's programs since the get-go. According to Andre, the mission has become more vital than ever as Indonesia attempts to recover its economy from the devastating impacts of the COVID-19 pandemic.
"We've translated this mission into concrete actions through the #MelajuBersamaGojek (Moving Forward with Gojek), which we launched in mid-2020, which also includes GoBiz. GoBiz is among Gojek's comprehensive solutions to facilitate the digital transformation of Indonesian MSMEs during the pandemic," he said.
"We believe that working with Telkomsel by integrating the MyAds Telkomsel platform with GoBiz will help hundreds of thousands MSME players in the entire Gojek ecosystem expand their market share while boosting their business development potentials," he added.
. (Courtesy of Telkomsel/.)
Marketing made easier through technology
New breakthroughs in digital technology have made marketing and advertising more efficient than ever.
Telkomsel MyAds is a business solution that facilitates business players to independently create, send and monitor advertising campaigns based on short message services (SMS), multimedia message services (MMS) and pop-up messages.
Telkomsel MyAds is also part of Telkomsel DigiAds, a holistic digital advertising solution with three primary product pillars: messaging, display and rewards. Telkomsel MyAds has been trusted by various business players, including MSMEs, across various ventures, from culinary and automotive to internet cafés and education.
GoBiz, meanwhile, is a superapp specifically designated to meet the needs of Gojek's business partners. It has been part of Gojek's MSMEs ecosystem. Since 2018, GoBiz has become Gojek business partners' trusty platform to fulfill their daily business necessities while supporting their business growth.
The GoBiz technology allows Gojek's MSME partners to take their businesses into the next high while helping them conduct their daily operations smoothly. Gojek's MSME partners can independently adjust their promotional programs to attract more customers.
In terms of daily operations, the superapp provides a wide range of cashless payment options for the entrepreneurs, while recording their orders and recapitulating their transactions automatically. Business management has been made much easier thanks to the superapp's integrated rapid reporting feature, integrated with its point of sale.
Currently, GoBiz has linked Gojek's hundreds of thousands business partners covering various sectors to millions of Gojek app users across Indonesia.
Through this linkage, Gojek's business partners can access Telkomsel MyAds services from GoBiz to make, send and monitor their business advertising campaigns, helping them access more new customers through the latter's precision marketing analytics.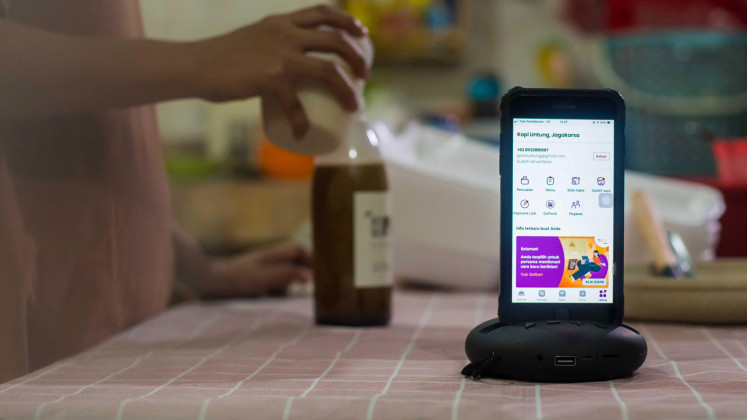 . (Courtesy of Telkomsel/.)
Moreover, Telkomsel has also launched special promos for Gojek's business partners who use the Telkomsel MyAds services. The special promos seek to help Gojek's business partners be the first to enjoy Telkomsel's leading value-added digital advertising services.
The latest advances in the Telkomsel-Gojek collaboration will further strengthen the synergy between the two ecosystems. Previously, more than 20,000 Telkomsel reseller and outlet partners had gained access to sell their products directly in Gojek's GoShop. This has made it easier for Telkomsel's resellers and outlets to fulfill the needs of more customers digitally.
Furthermore, Telkomsel also supports Gojek driver partners' productivity by offering its subsidized connectivity package, which can be obtained by Gojek driver partners with price tags starting from Rp 25,000 (US$1.78) and accessed through the Gojek driver's app, MyTelkomsel and dialing UMB*168*455#.
"Our collaboration with Gojek has served as great momentum in starting 2021, with Telkomsel's status as a leading digital telcom company, by expanding opportunities and probabilities through the implementation of cutting-edge technology," Setyanto said.
"Looking forward, we are optimistic that we can present more collaborative initiatives between Telkomsel and Gojek that can serve as solutions for MSME players to accelerate their businesses, while strengthening Telkomsel's commitment to developing an inclusive and sustainable digital ecosystem in Indonesia," he added.