'COVID-19 controls increasing fire risks at work', warns safety expert
fire safety
Controls to limit the risks of COVID-19 transmission are having an impact on the management of workplace fire risks, according to a firefighter and safety trainer.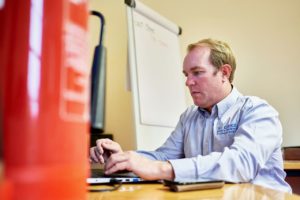 Scott Mathie, Managing Director of health and safety training and consultancy firm 1st Choice Safety, is seeing well-intentioned businesses introduce coronavirus risks controls that are inadvertently heightening the risk of fire sweeping through their premises.
"It's common to see companies' COVID-19 risk assessments allow for opening doors to create an airflow to let airborne contaminants escape and to avoid 'touch points' in common places such as door handles," he said. "Many businesses aren't communicating the increased risks to their staff, nor educating them in the new process of shutting doors in the event of a fire, or when the premises are unoccupied. Self-closers on the fire doors won't function if they're propped open.
"An open fire door won't contain the fire. The fire and smoke spreads through the building and this may hinder people's evacuation by compromising the 'means of escape' and allowing for greater fire spread by not compartmenting the fire."
Scott, who has many years' experience as a frontline firefighter and heads up a team of former fire service staff members within his company, advised business owners and safety managers that they could install mechanisms such as Dorgard fire door retainers or magnetic locks with sensors that close doors when a fire alarm sounds.
But open fire doors aren't the only risks for firms currently, he said. At the same time, changes in workforces, caused by furlough, redundancies and working from home, mean they also need to revisit their fire risk assessment to check they have enough fire marshals to keep people safe.
"If your risk assessment has been set up to have, say, 20 fire marshals in the workplace and you have 13 of them working from home, then that may not be enough per person to manage the risks and assist with the evacuation of the premises. Many companies made their calculations pre-COVID, taking into account their then staffing numbers. You really need to revise and amend your fire risk assessment if this is the case.
"And in companies you'll often have individuals who are the incident leaders. Often this is members of the senior leadership team or management. But what happens if they're working remotely from home when the fire happens? Do your plans stack up and, importantly, have you run a fire drill during COVID times to test your plans?''
Mr Mathie's company is currently running virtual classroom courses via group video calls to ensure firms comply with fire safety both during and post lockdown.
His advice to businesses over the next few weeks is pretty clear: "Have a 'stop moment' and review your risk assessment. Are your fire doors doing their job? Do you have enough fire marshals per person at work to manage in the event of a fire? Are you sure about your chain of command, and know that you will have an incident leader on site to oversee the evacuation?
"These are challenging times with COVID but we can't let it distract us from other workplace risks, which remain and in some cases are compounded by the situation."
Click here for more information about virtual classroom fire safety courses.
There is no general legal requirement for sprinkler systems to be installed in a place of work but there may be circumstances where sprinklers are required.
This guide provides an overview of the need-to-know information for sprinklers and covers:
The legal requirements
More information about sprinkler systems
Key actions
Key terms
And more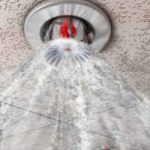 Related Topics