EPA trials new technology to catch polluters red-handed
"For the EPA, in terms of compliance and enforcement for people doing the wrong thing … these are great tools," said EPA scientist and project leader Simon Sharp.
"We've used the data in terms of the recurrence of particular types of pollution, which seems to happen on a Friday in the late afternoon, to time the response [of EPA inspectors]."
At the northern tip of the test zone is Foden Reserve, a deceptively lush-looking wetland that has become one of the most contaminated green spaces in the centre of one of the most heavily industrialised precincts in the city.
Pollutants spilt, washed or dumped into the storm water system regularly pass through Foden Reserve to Merlynston Creek, flowing down to the popular recreation area of Jack Roper Reserve, on to Merri Creek, the Yarra River and potentially entering Port Phillip Bay.
The trial EPA sensor network is able to detect in real-time when contaminants such as ammonia, petroleum products, heavy metals, chemicals and other toxins enter the water and provides data about the seriousness of incidents.
"This means we can find out very quickly if there has been a discharge from industry or that stormwater has washed contaminants into a monitored waterway, allowing us to take quicker action to control the flow, issue any necessary warnings and trace back sources," said EPA chief environmental scientist Andrea Hinwood.
Under the current system, the EPA relies on reports from members of the public and industry to identify suspected pollution events.
Data from the devices has already been used to help the EPA stage an inspection that resulted in a fine, although the regulator declined to provide details about the enforcement action for operational reasons.
"So far the technology has been working well and, if successful, a network could be established providing water quality information in much the same way EPA's AirWatch currently delivers air quality information in real-time direct to Victorians," Dr Hinwood said.
The trial is being run by EPA in co-operation with commercial environmental consultancy group Bio2Lab, which designed the sensor technology.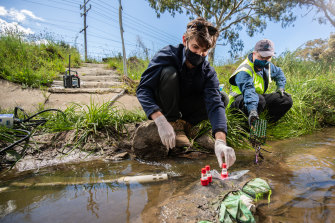 There are nearly 700 constructed wetlands and stormwater catchments in Melbourne, which were built to manage rain run-off and flooding and have since become popular recreation spots and wildlife reserves.
Some like Foden Reserve are designed to act like environmental "kidneys", trapping and filtering pollution, but they can be overwhelmed by serious pollution events and large rainfalls. Many of the wetlands are now heavily contaminated.
Loading
Among the most damaging environment incidents along the Merlynston Creek system were a series of industrial blazes at plastics recycler SKM in 2017, Campbellfield Industrial Services in 2019 and battery recycler MRI in 2020.
Start your day informed
Our Morning Edition newsletter is a curated guide to the most important and interesting stories, analysis and insights. Sign up here.
Chris Vedelago is an investigations reporter for The Age with a special interest in crime and justice.