Sarah Haberbusch celebrates 50 years at RIT
Sarah Haberbusch has been an integral piece of the fabric of RIT for 50 years. She began her career at the university in October 1970, and over the past half-century, Haberbusch has seen many changes.
"We honor Sarah for 50 years of quality workmanship at RIT," said Debra Fitts, assistant director, Data Center Operations at RIT. "She has been a dedicated and valuable staff member with a strong allegiance to the college and a super RIT hockey fan. We are grateful to her for her contributions."
Haberbusch and her family have a long history at RIT. Her mother, Gerry Drum, worked in Dining Services, the Bursar's Office, Housing, and Residence Life. Her two brothers, Dave and Bill, also worked for RIT. Dave worked in the mailroom, while Bill is currently an electrician in Facilities Management Services. She has three children, Becka, Jeffrey, and Amanda, with Becka and Jeffrey each earning bachelor's and master's degrees from RIT.
A graduate of Rush-Henrietta High School, Haberbusch began her career at RIT doing data entry for Payroll, General Ledger, Student Records, Bursar, and Admissions. She was the primary data control assistant for the payroll applications, using machines that sorted and collated thousands of keypunch cards manually.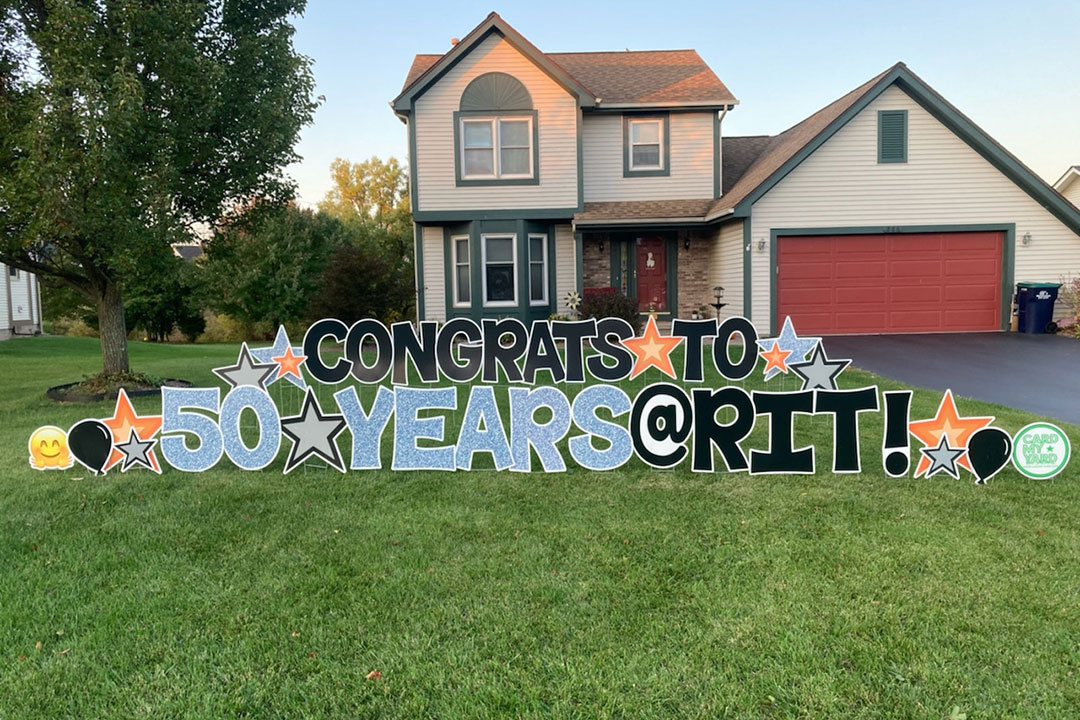 ‌
As time progressed and new technologies introduced, her position and responsibilities changed, transitioning into the computer room as an operator. Moving from punch cards to computers, Haberbusch incorporated many of the same skills and knowledge she learned back in 1970.
"From punch cards, typewriters, and main frames that took up entire rooms, to the internet, computers, and servers that can hold terabytes of data, I've seen it all in terms of technology," said Haberbusch. "It is amazing to think back starting with key punching cards to learning different applications and systems and helping students."
In February, Haberbusch began working as a service desk analyst for the ITS Support Desk. Her experience at the university and her understanding of the department's needs is an invaluable asset.
"Sarah joined our team earlier this year and I had every confidence she would take care of the customers who called the ITS Service Desk, even though this was a whole new world for her," said Kathy Marcus, IT Manager. "Not only did Sarah learn new skills after spending decades with the Data Center, she did so with grace, patience, and courage that was inspirational."
She is also involved in the ongoing COVID-19 call center and has provided compassionate support to many parents, students, and staff over the past few months.
"Sarah really let her service star shine when we set up the Emergency Call Center in March to handle all of the calls related to RIT's response to the coronavirus," said Marcus. "She started taking calls that first day and her empathy, reassuring voice, and ability to convey difficult information in a kind way was a huge comfort to the students, parents, and staff members who spoke with her."
Asked what has kept her at RIT for 50 years, Haberbusch replies, "It is the atmosphere at RIT that is so great. I love my job. I have learned a lot, but mostly it is the people that I worked with that has kept me at RIT. I lucked out and have had a bunch of great people to work with these last 50 years. RIT isn't just a job, it's a huge family, and I am so grateful to be a part of it."