5 skills employers want right now, according to LinkedIn, Deloitte and more
The equivalent of 305 million full-time jobs have been lost globally since COVID-19 hit, according to ILO figures.
But there are signs recruitment is increasing in some markets.
LinkedIn has analysed millions of job adverts to find what employers are looking for.
So-called 'soft skills', including communication and problem solving, head up the list.
Getting your first foot on the career ladder – or climbing back onto it – has seldom felt harder.
Who's hiring – and what do they want?
The social network has analysed its data to identify the skills employers want most and how you can use them to raise your game. It says interpersonal "soft" skills (versus "hard" skills – abilities developed over time, like coding) are the most prized. This reflects previous research by organisations including Deloitte, and the World Economic Forum, which investigated the skills that will be needed in the Fourth Industrial Revolution in its Future of Jobs Report.
Here's a deeper look at five in-demand skills:
This is top of the wish list for many employers. It's great if you can code – but can you express yourself too?
As work guide Career Contessa puts it: "Have you ever had a manager who refused to listen? Have you ever worked with someone who could not pick up on social cues; someone who didn't know when to be sociable and when to power down to work? Have you ever worked with someone who used a ton of office jargon in order to say… seemingly nothing?"
LinkedIn says it's not just verbal cues that recruiters are looking for, but "digital body language". Are you making the right impression with the tone you adopt in emails and texts?
Forget team-building exercises that involve building a bridge with a pair of styrofoam cups and a piece of string. Problem solving is much more than that.
It's about identifying a task, breaking it down into its components, and fixing it, according to the Institute of Chartered Accountants in England and Wales. It's about the skills around it, like sticking with the task and doing your research. And just like clear communication, it's seldom been more vital.
The first global pandemic in more than 100 years, COVID-19 has spread throughout the world at an unprecedented speed. At the time of writing, 4.5 million cases have been confirmed and more than 300,000 people have died due to the virus.
As countries seek to recover, some of the more long-term economic, business, environmental, societal and technological challenges and opportunities are just beginning to become visible.
To help all stakeholders – communities, governments, businesses and individuals understand the emerging risks and follow-on effects generated by the impact of the coronavirus pandemic, the World Economic Forum, in collaboration with Marsh and McLennan and Zurich Insurance Group, has launched its COVID-19 Risks Outlook: A Preliminary Mapping and its Implications – a companion for decision-makers, building on the Forum's annual Global Risks Report.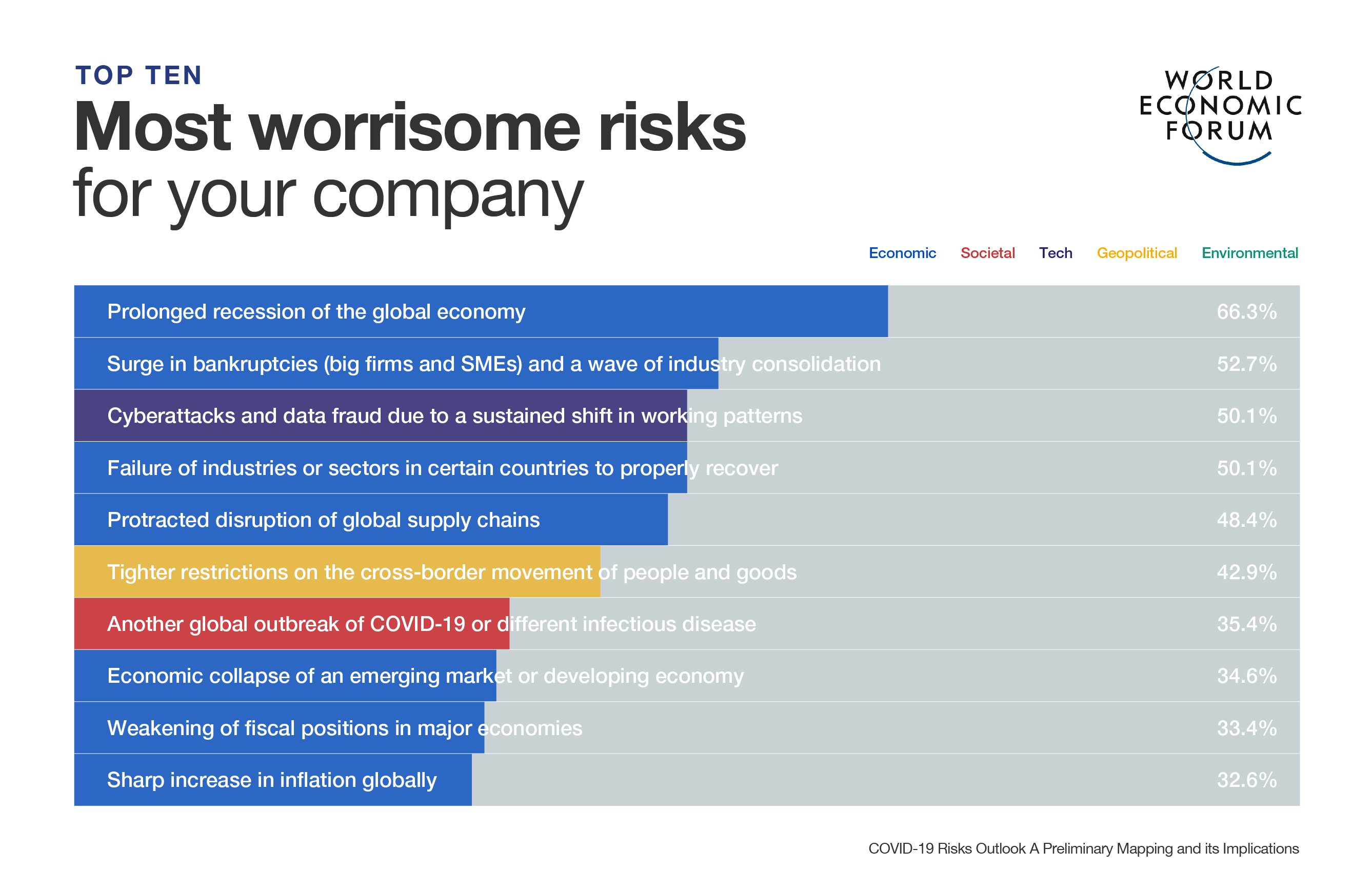 "It's an important time to be thinking critically," says executive coach Joshua Miller. "Your actions are based on the types of questions you ask yourself and others on a daily basis." Could they change the type of answer you get?
Businesses everywhere are facing and making tough choices, from budgeting to changing headcount. What's clear is that evidenced, focused thinking can help at every level of an organization.
Regardless of the industry you're targeting, from senior to junior level, you need to create a positive experience for those who, ultimately, pay your wages.
Is leadership all about the C-suite? Executive advisor Gartner says there are useful leadership lessons that anyone, at any level, can benefit from. These include being able to make a clear list of your priorities, in order, and not thinking in a binary way; there are rarely only two choices in a tough situation.
Harvard Business School professor Bill George says he prioritises being "authentic." Leaders "bring people together around a passion, for a common purpose, to make this world a better place."