Coronavirus: Boris Johnson sets out plan for 'significant normality' by Christmas
Coronavirus restrictions will ease further in England under plans for a "significant return to normality" by Christmas, Boris Johnson has announced.
Under the new guidelines, people may use public transport for journeys immediately, while advice for employers will change from 1 August.
Companies will have more discretion to bring staff back to workplaces if it is safe to do so, the PM explained.
Mr Johnson added he was "hoping for the best and planning for the worst".
At a news conference at Downing Street, the prime minister said the plan "remains conditional" on continued progress in controlling the virus and preventing a second wave of infections that could overwhelm the NHS.
"It is my strong and sincere hope that we will be able to review the outstanding restrictions and allow a more significant return to normality from November at the earliest – possibly in time for Christmas," he said.
Devolved administrations in Scotland, Wales and Northern Ireland have the power to set their own timings for the easing of restrictions.
In the announcement, Mr Johnson said the government was making it clear to people in England they may use public transport now.
From 1 August, he said: "Instead of government telling people to work from home, we are going to give employers more discretion, and ask them to make decisions about how their staff can work safely."
He explained that could mean "continuing to work from home, which is one way of working safely and which has worked for many employers and employees".
However, the Welsh government said it would carry on advising people to work from home.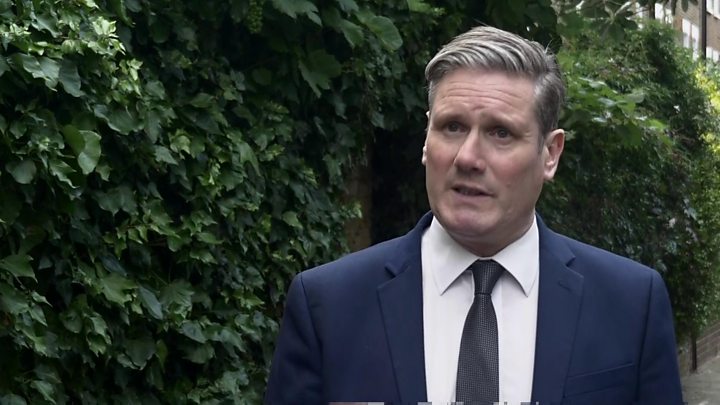 Responding to Mr Johnson's announcement, First Minister Mark Drakeford said: "I positively don't want people to be returning to offices in the way that we did before coronavirus happened."
The government's current social distancing guidance requires people to stay at least 1m apart with certain precautions.
On Friday, a further 114 coronavirus deaths were announced, taking the total number of people who have died with the virus in the UK to 45,233.
It comes as Public Health England said it was pausing the publication of the daily death figure while officials investigate claims that the numbers may have been distorted.
On Thursday, the government's chief scientific adviser, Sir Patrick Vallance, told MPs there was "absolutely no reason" to change the government's current guidance on working from home.
The government has advised people to "work from home if you can" since March, and Sir Patrick said home working was still a "perfectly good option" for many.
Asked about those comments at the news conference, Mr Johnson said he "totally agrees" with Sir Patrick and that it was not for the government to tell employers where their workforce should be.
Labour leader Sir Keir Starmer said he will look at the details of the government's plan to get people back to work but stressed "this can't be done on a wing and a prayer and requires a credible plan and national leadership".
'Smaller companies need support'
Business groups warned any mass return to work immediately was unlikely.
Smaller companies in particular would need more support to get workers back, Mike Cherry from the Federation of Small Businesses said.
"Small firms are being tasked with consulting employees and putting the right measures in place to ensure a safe return to work," he said. "After weeks of little or no income, they will need help – both funding and advice – to make that happen."
Edwin Morgan, director of policy at the Institute of Directors, said childcare and concerns about using public transport were still issues for many employees.
Trade union body the TUC accused ministers of "passing the buck on this big decision to employers" and said more investment in public transport would be needed to make commuting safer.
At-a-glance: The latest changes in England
From 25 July indoor gyms, pools and other sports facilities can reopen
On 1 August the government will update its advice on going to work, asking employers to make decisions about how and where their staff can work safely
From the same date, most remaining leisure settings, including bowling, skating rinks, casinos and all close contact services, such as beauticians, will be allowed to reopen
Live indoor theatre and concerts will be able to resume with socially distanced audiences
Wedding receptions for up to 30 people will also be allowed from next month
From September, schools, nurseries and colleges will be open for all children and young people on a full-time basis, while universities are also working to reopen as fully as possible
From October, the government intends to allow audiences to return to stadiums, while conferences and other business events can recommence, subject to the outcome of pilots
The prime minister reiterated previously announced plans to pause the shielding programme for vulnerable people in England at the end of July.
But disability groups expressed their concern that this will come as employers are asked to consider bringing staff back to workplaces.
James Taylor, from charity Scope, said the PM's announcement would "ring alarm bells" for disabled people who were "extremely anxious" about the change.
Also from 1 August, Mr Johnson said most remaining leisure settings, such as bowling alleys, skating rinks and casinos, and close-contact services, such as beauticians, could resume.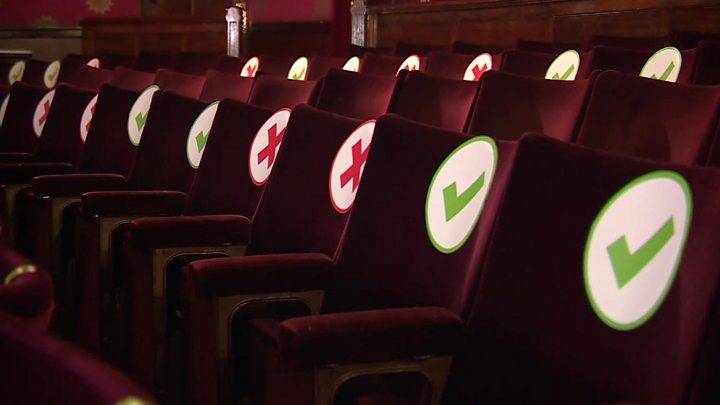 Indoor performances with socially-distanced audiences in theatres, music and performance venues will also be allowed from next month.
However, soft play areas and nightclubs will remain closed beyond that date, although they "will be kept under review".
From October, he said fans could be able to return to sport stadiums if pilot events go well.
The upcoming World Snooker Championships in Sheffield, the Glorious Goodwood horse racing festival and two men's county cricket friendly matches are set to be among the trial sporting fixtures.
Winter is the big concern.
The problem is, we don't know how well coronavirus will spread as the nights draw in.
The pandemic really kicked off in our spring so we don't know what a winter with Covid-19 will look like.
There is evidence the virus survives longer in cooler temperatures – and similar infections, including flu, do get a winter boost.
So how the virus behaves, and the effectiveness of NHS Test and Trace, will dictate how many of these restrictions can actually be lifted.
Sage documents, released today, raise serious doubts about how far we can go.
They say it is not possible to return to normality without levels of contact tracing and other coronavirus protections that would be "difficult to achieve".
They advise the government should already be planning how measures should be reintroduced.
The PM indicated that social distancing measures could be relaxed further for loved ones.
He said: "Throughout this period, we will look to allow more close contact between friends and family, where we can."
Second wave
Mr Johnson also confirmed an additional £3bn in funding for the NHS to help it prepare for a potential second wave of infections and to cope with its usual winter pressures.
An expansion in testing capacity to a target of 500,000 tests a day by the end of October would help identify positive coronavirus cases among people with symptoms of seasonal illnesses, he added.
It comes days after scientists said the UK could see about 120,000 new coronavirus deaths in a second wave of infections this winter if no mitigations were put in place.
In addition to the further easing of lockdown restrictions in England, Mr Johnson unveiled new powers for local authorities to manage outbreaks of the virus in their areas.
He said local authorities would have the power to close premises, close off public outdoors spaces and cancel events.
Ministers would also receive clearer guidance on where they can intervene to "close whole sectors or types of premises in an area" and advise people in specific postcodes to stay at home.
"It has to be right that we take local action in response to local outbreaks – there is no point shutting down a city in one part of the country to contain an outbreak in another part of the country," Mr Johnson said.
---
Do you have any work related issues? Is it safe for you to return to the workplace? Is working from home working for you? Email haveyoursay@bbc.co.uk.
Please include a contact number if you are willing to speak to a BBC journalist.